Which antivirus program is the best? Should you use a 3rd party antivirus software or the built-in Microsoft Security enough? What are some of the best free antivirus programs with real-time protection that aren't compromising on features?
Users will inevitably run into these types of questions, and the answers found on the internet are often contradictory. Therefore, it's not surprising that the average consumer is left scratching their head, suddenly not knowing which claim to trust. However, using an antivirus product is necessary, and it can save the consumer a lot of inconvenience and headaches.
In this article, you will find out:
Which are the best free antivirus programs in 2021-2022 in no particular order.
Independent AV Testing
For the sake of accuracy and authenticity, we'll use the AV Comparative's 2021 extensive antivirus test as a basis, with a little bit of a description of the software's pros and cons.
The company's official website has a search function allowing you to browse through the various retrospective evaluations and test results. 

Free or Paid, You Need Protection!
First and foremost, the use of antivirus software is always justified. A computer running Windows can't exist without virus protection. Whether you use your computer occasionally or are a power user, using a robust antivirus program is always important. Free or paid, you have to have something to protect you.
It's important to note that we can exercise good internet hygiene to avoid viruses by following a few simple but essential steps to minimize the chances of becoming infected.
Do not open or download links or attachments from unsolicited emails.

Do not download and install software from questionable sources.

And do not open pages that look suspicious or your browser considers dangerous.

Use strong passwords and multifactor authentication to protect your accounts.
That is pretty much it. If we consider all these points and modify our internet habits accordingly, you will have no problems.
Caveats and Limitation of "Free Antivirus" Software
It is important to note that the security software market works much like any other market, so we should be under no illusion that the service is really free. The question is, what can we expect by choosing the free version of a given software, in this case, an antivirus? How limited is that version compared to the paid premium package? Are there other hidden costs, and if so, what are they, and how much?
Unfortunately, cybersecurity companies tend to have a policy that although a so-called free version of a product is available, in most cases, it is either time-limited or functionally limited to promote the premium product.
It's also worth noting that any complex protection package is only as strong as its weakest component. If that's the user, then the best security suite is worthless regardless of its additional features or price.
With all that out of the way, let's dive in: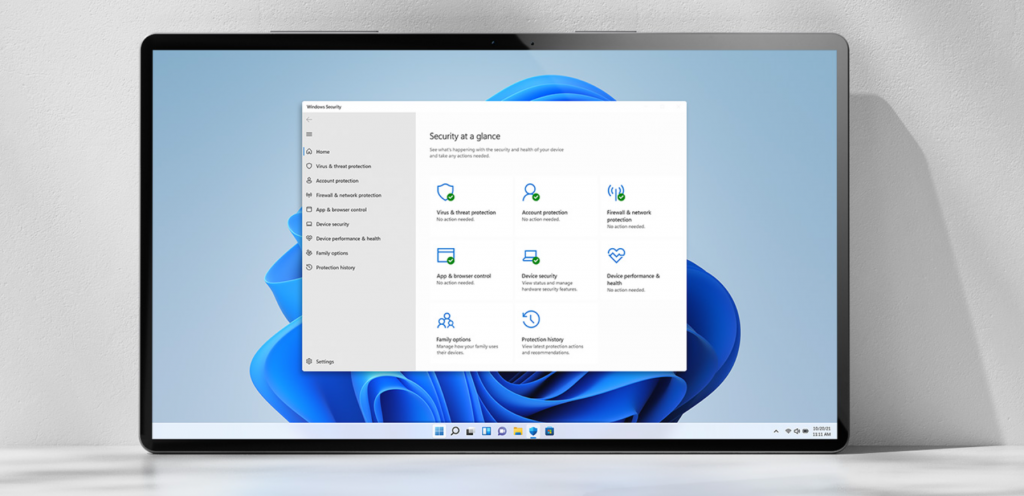 Microsoft Defender
So what about the built-in antivirus in Windows, you know, the one that comes baked into the OS? 
Could it be the best free antivirus for someone? It very well could! 
After all, it's the one and only "free" antivirus. One that you can still stay updated on without paying a dime offers powerful and reliable protection against online threats. 
Microsoft has put a lot of effort into making Defender a solution that provides a consistent level of protection for the average user. And it shows significant progress; Microsoft Defender went from being a so-so performer to a recommended product in a growing number of malware tests. Pair that with its ransomware module, which is somewhat unique, because it offers version tracking of files along with OneDrive, so all is not lost if a ransomware virus gets into your machine and encrypts your data.
Let's take a closer look: The easiest way to get to Microsoft security configuration options is from the Start menu by typing: "windows security." Here you'll get an overview of the security features built into the operating system, including the firewall, ransomware protection, App & browser security, Device protection, etc.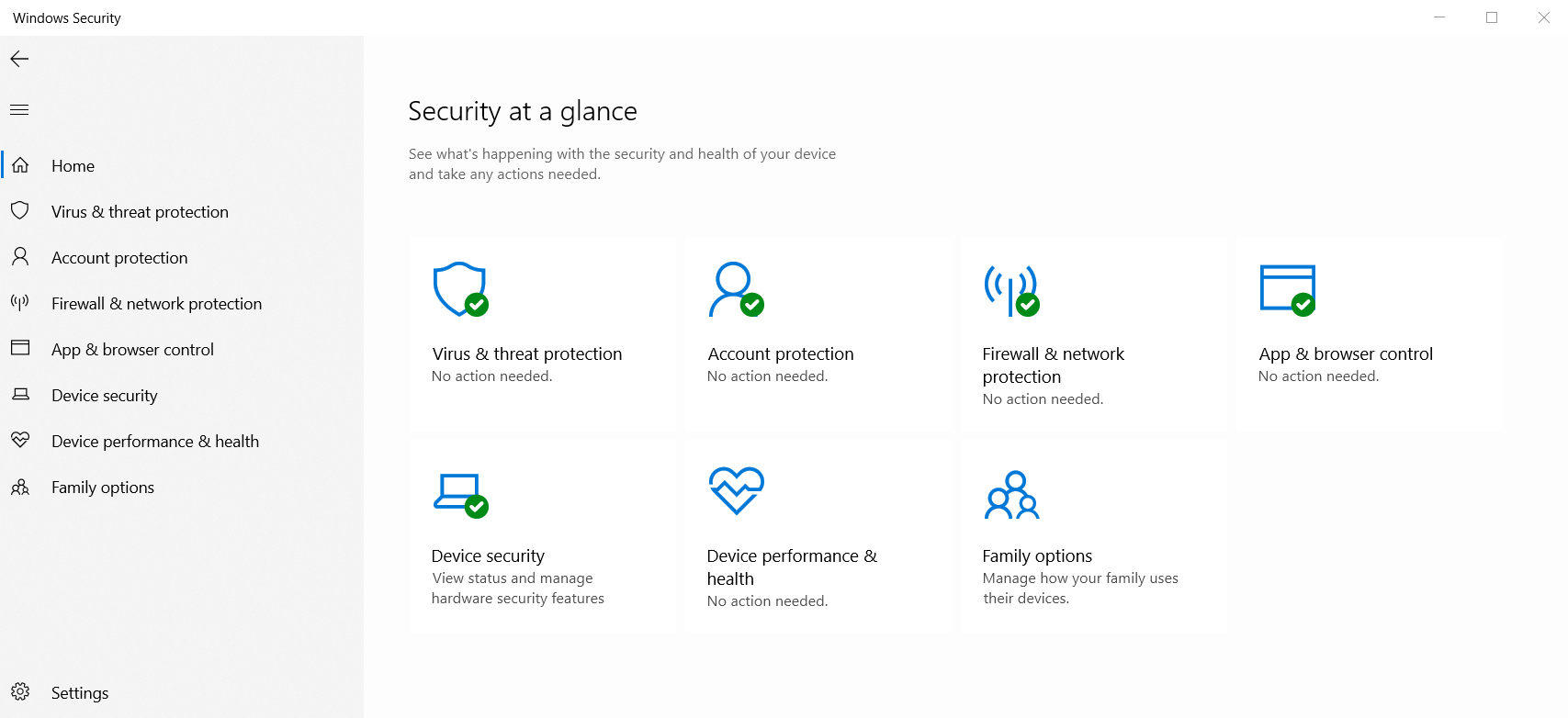 One of the best features is the ransomware protection module saving your data to One Drive, which is worth turning on because it makes personal files and other folders less likely to fall victim to ransomware.
Bitdefender Antivirus Free
Bitdefender is a simple but powerful antivirus with a cloud-based engine, quietly running in the background and boasting 99.7% effectiveness. Typically, the software only notifies us when justified; otherwise, it does its job automatically and silently. 
As a result, Bitdefender detects and neutralizes even the most complex malware with high efficiency and even faster than the rest of the field. It is equally effective at detecting and warning against phishing, but it falls a bit short in extra features such as password management, parental control, VPN, and a firewall. 
Of course, this is only true for the free version; everything in the complete package is, of course, unlimited and almost perfect.
Kaspersky Security Cloud – Free
Kaspersky offers a clear and easy-to-use interface, minimizing its effect on system performance with minimal impact on overall performance. 
The detection rate currently sits at 99.7%, pretty much the same as most of the others. It works efficiently on PCs, Mac, and Android, with automatic and real-time threat analysis, encrypted passwords, and data management. 
Kaspersky offers several extra features in the premium version. These include unlimited VPN, advanced web protection, parental control, or unlimited password manager.
Panda Free Antivirus
Panda is one of the antivirus solutions that AV-Comparatives experts declared one of the best, if not the most effective, in a survey of around 380 malicious code samples last year. 
Panda had a perfect 100% detection rate and an easy-to-use interface, wrapped in a no-compromise package. Panda's antivirus has identified more spyware, ransomware, and adware files, and its real-time protection is exceptional. 
Panda has a VPN module; the downside of the free version is that it has a daily data limit of 150MB. 
Avira Free Security
Avira, another cloud-based program, has achieved overall effectiveness of 98.7% in the last AV-Comparatives test, which is still a solid and confident result. 
Avira has a clear and easy-to-use interface, has a generous number of free features, and has one of the best protection engines. The cloud-based detection engine is the key to its merits, allowing it to be both fast and stable yet still negligible in terms of system and resource requirements. 
As an added benefit, you can get a 500 MB monthly VPN limit, password manager, firewall, and the "Safe Shopping" browser extension compatible with Chrome and Firefox, completely free of charge.
AVG Free
AVG is a popular antivirus used by more than 400 million users and is free antivirus software that provides solid protection against the most dangerous types of malware; it has been around for quite some time and has always been a popular choice.
In addition to providing real-time security updates, it scans for malware and ransomware, fixes performance issues, and tries to catch malicious software before they reach your computer. Furthermore, it will check for PC performance problems, so you will always be sure that your computer protection is up to date against the latest online threats. Finally, there is a clean user interface that shows you protection status and basic settings. In the free version, it's computer, web, and email protection.
While the paid version has more features, the free version is still very good.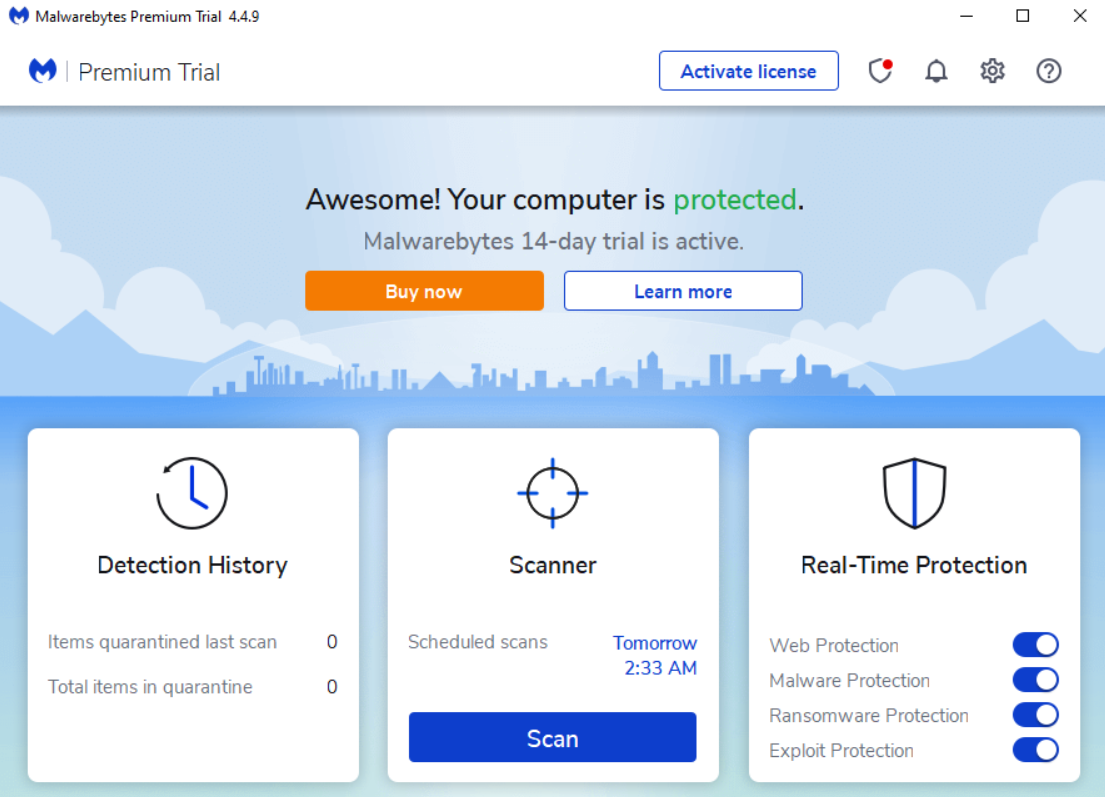 Malwarebytes Free (On-demand scanner)
For those of you who prefer lightweight, easy-to-use antivirus software to clean their computers from time to time, Malwarebytes may be the way to go. The full version of Malwarebytes has done a fantastic job guarding against malware threats with very few false positives.

But the free version is often used as an additional malware cleaner due to its advanced scanning that operates at the deepest levels of a computer system, often catching things other programs may miss.
To get the free version first, you'll have to download the trial version, which will give you complete (active) protection for 14 days; after the trial, it will revert to a free on-demand scanner with no active protection. 
in Conclusion
Choosing the best antivirus solution may seem difficult at first, as there are so many on the market. However, given that our online identity and personal and financial data are at risk, we must choose carefully. Fortunately, these antivirus solutions are more than capable and are valid for life without spending a dime. All though, if you need malware protection for your business, we'd always recommend upgrading to the premium version of the security suite to get the extra benefits, features, and support.
Frequently Asked Questions
What measures should I take to protect myself from cyber-attacks?
Computer viruses come in infinite varieties, and, like real viruses, they are constantly evolving, mutating, and adapting. For example, there are ransomware viruses that attack and encrypt our files. Others are leeching away at your machine's resources unnoticed or trying to steal our data to access sensitive information. Unfortunately, the imagination of hackers and cybercriminals is endless.
In reality, there is hardly any system that does not have some kind of vulnerability. Therefore, criminal organizations, the world's top hackers, and other cyber experts constantly find and patch these vulnerabilities or exploit them; it is a real-life cat and mouse game.
Protect your whole network.
Our job is to create a defense net that is strong enough that hackers are unable to exploit it.
Cybercriminals will have a much harder time successfully breaching a well-protected system with modern firewalls and security software. Surprisingly, despite their effectiveness, these safeguards are not always 100% safe. However, as they make it far too problematic for criminals, many cybercriminals stop after a few tests.
Always keep your OS and programs up to date.
Software updates are one of the most critical aspects of the overall security of your data. There are many vulnerabilities, but outdated programs, drivers, and operating systems are the biggest. Software updates typically patch some newly discovered security weakness. Make sure to download these updates as soon as they become available to fix the vulnerabilities right away.
The biggest problem with these bugs is that they are probably known to hackers. So users who are still using older versions of the programs could be easy prey.
This is especially true for older browsers and operating systems. For example, Windows 7 was an excellent operating system. However, it is no longer updated, it is no longer bug-fixed, and it is not secure. Therefore, if you still have Windows 7 or running outdated software, you should upgrade immediately.
Keep your drivers up to date.
Many programs have an automatic update function, and it is a good idea to set it up so that you will always have the latest security fixes installed. Unfortunately, if a window pops up asking if you want to update, we often say 'no' without thinking, which is a big mistake; install them right away to minimize any security issues down the road.
Don't forget to install driver updates. Windows update will do this in the background most of the time, but special "Driver Updater" software can speed up the process.
Why should I get a paid antivirus?
In almost all cases, paid antivirus software offers more features than a simple free anti-malware program, like:
Secure Connection VPN

Password Manager

Browser Extention

Online Account Monitoring

Kids Protection / Parental Control

Online Shopping Protection

PC Optimizer
The most significant advantage is that these different functions work as a single, easy-to-use program right out of the box. In addition, the paid version gives you access to an actual customer support team that can help with any problems using the software.
What is the best way to purchase an antivirus program?
Today, many companies use the subscription model. You can usually choose between one, two, or three-year subscriptions, which you will have to renew. But, of course, the longer you commit, the bigger the discount you get on the price.
Users can usually use one subscription on several devices. However, some companies charge a little extra for each device, while others have a maximum number per plan. 
Does security software slow down my computer?
This can be a very important consideration, especially if you are using an older device. Although there have been improvements in this area in recent years, there can still be huge differences.
Some antivirus software may lack proper optimization, take more resources, and slow down the older computers. If you have an older computer and 8 GB or less of RAM, be sure to check the software's system requirements.
Should I take advantage of Trial Versions?
Many providers offer a free trial period or money-back guarantee. It's worth taking advantage of this, especially if you're looking for your first premium antivirus. In this case, it's worth trying out one or two programs to see which ones offer what you need and how easy they are to use.
Did we miss anything? What is your trusted cyber security program? Let us know in the comment section; until next time, cheers.